The Seahorse Yacht Charters Fleet is a hand-picked and extensive collection sporting of only the finest, most trustworthy BVI charter yachts, such as Lagoon, Jeanneau, or Bavaria. These are brands and manufacturers that have come to prove themselves time and time again to be reliable and robust sea goers, capable of supplying relaxation, luxury, and adventure as you demand it. We believe the Yacht is one of the most central aspects of any charter experience, acting as a base of action, a source of fun and importantly, your home for the trip. We can help you find not only a great yacht but one that suits you and your needs specifically.
Check out the Seahorse Yacht Charters Fleet of BVI charter yachts today and see what we currently have available. No matter you're after a power yacht, monohull, catamaran or something more specific, you'll be sure to find something fitting in our line up. There's something for everyone here at Seahorse, it doesn't matter if you've never sent a day off land or if you're a grizzled sailing veteran, we can help find the yacht that's right for you. Our yachts are also perfect for couples or families, offering a prime opportunity to craft memorable and meaningful experiences you'll cherish for years to come.
If you have any questions regarding any BVI charter yachts that aren't answered here, please feel free to contact Seahorse Yacht Charters directly, and we'll be happy to help you out with any possible inquiries you may have. Our team is made up of experienced sailors and charter veterans, with Liz & her husband having spent over 30 years sailing and adventuring in the BVI. Seahorse Yacht Charter members have spent lives crafting stunning sailing memories and now want to bring those joys to you too. Sailing is an experience everyone should have at least once and it's never been easier than with the help of Seahorse Yacht Charters.
Seahorse Yacht Charters
P.O. 4278, Road Town, Tortola, n/a, VG1110, British Virgin Islands
284-441-7739


MOJO L48 GUESTS COMMENTS
November 2019
Name: Paul
Yacht: Mojo with Richard and Dominque Vincent
Charter Dates: 2019-11-16 08:00 to 2019-11-23 08:00
Area Cruised: Virgin Islands
Overall Rating: 5/5

1. Was the crew friendly and accommodating?
Yes

2. Was the yacht comfortable and clean?
Yes

3. Was the yacht well ventilated?
Yes

4. Was the food good and well presented?
Yes

5. Did you like the area you sailed?
Yes

6. Additional comments on your charter?
Excellent crew. Would highly recommend Richard and Dominque.
January 2019
This trip exceeded out greatest expectations! We enjoyed a week of relaxation & Sailing, while still having fun and exploring the different islands of the BVI

Both Richard & Dominique were the best crew, as they showed great patience and enthusiasm to make the family feel welcome.

Dominique is a wonderful chef, and she made every member of the family was happy with their meal. It was by far the best food we've ever had whilst on vacation.

Richard showed great intelligence and inspired three member of the family to love sailing. He planned the trip very well, with plenty of beaches and different landscapes to explore, as well as various activities for the children. Our 5 year old was named Richards co-captain by the end of the week!

The Mojo is an extremely comfortable boat, with plenty of space and comfort. It really felt like a dream!

Our best wishes to this wonderful couple, who made this trip truly unforgettable.

Thank you!
Robert, Puola, Matthew, Elene, Max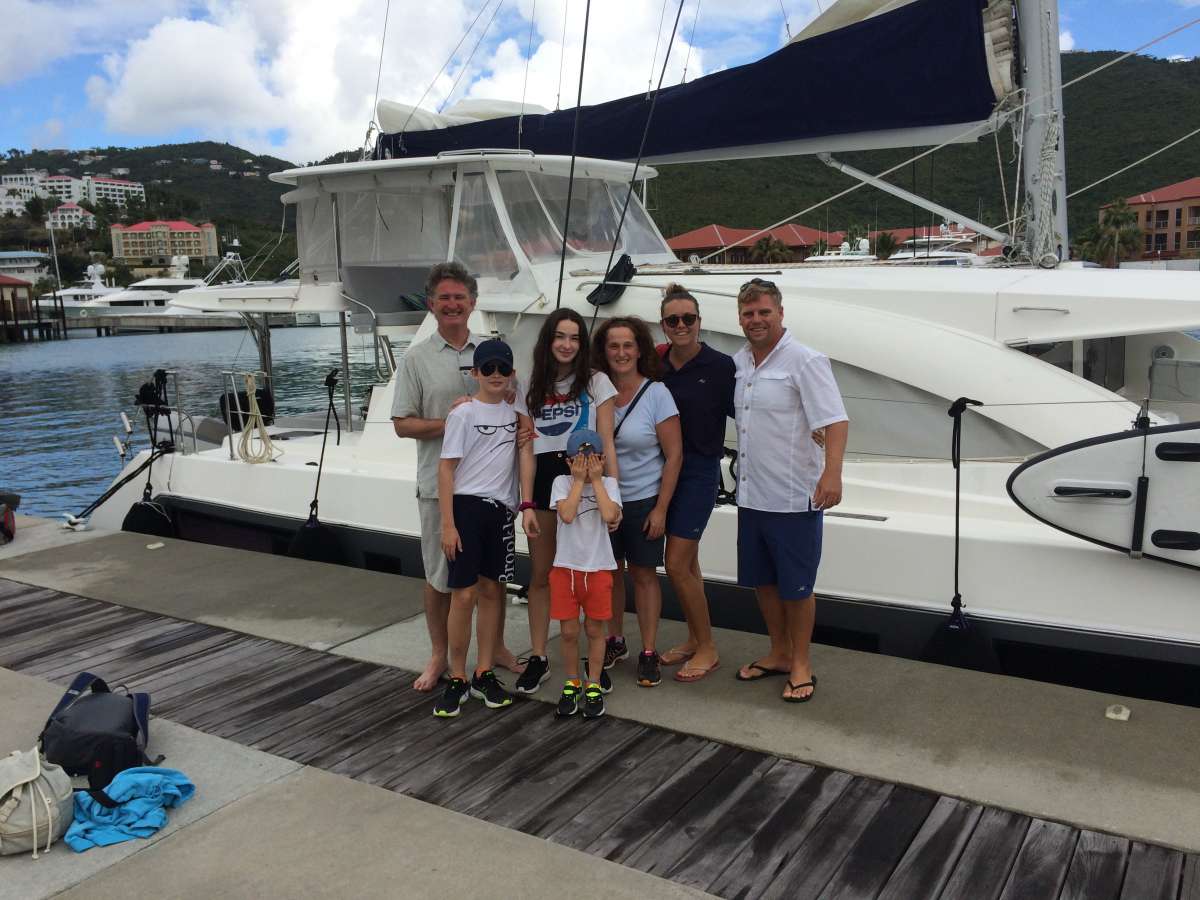 January 2019
What A Week ! So Wonderful you both were. Dom with her fantastic meals & service, and Richard, a fantastic Captain!

Thank you both for your very excellent care of my my family, nothing went unattended to. Food needs, music, information to mention a few. We had our first effortless vacation thanks to Richard & Dominique.

We had such a blast seeing the sights of the beautiful BVI ! We feel like we got such a thorough visit + made so many great memories - even Foxy's @ JVD was such a hoot! Amazing trip and we can't wait to come back.

Excellent trip! you both foe helping us to create such a memorable Christmas/New Year trip!

Thank you!
Peter, Irene, Jack, Courtney, Kelly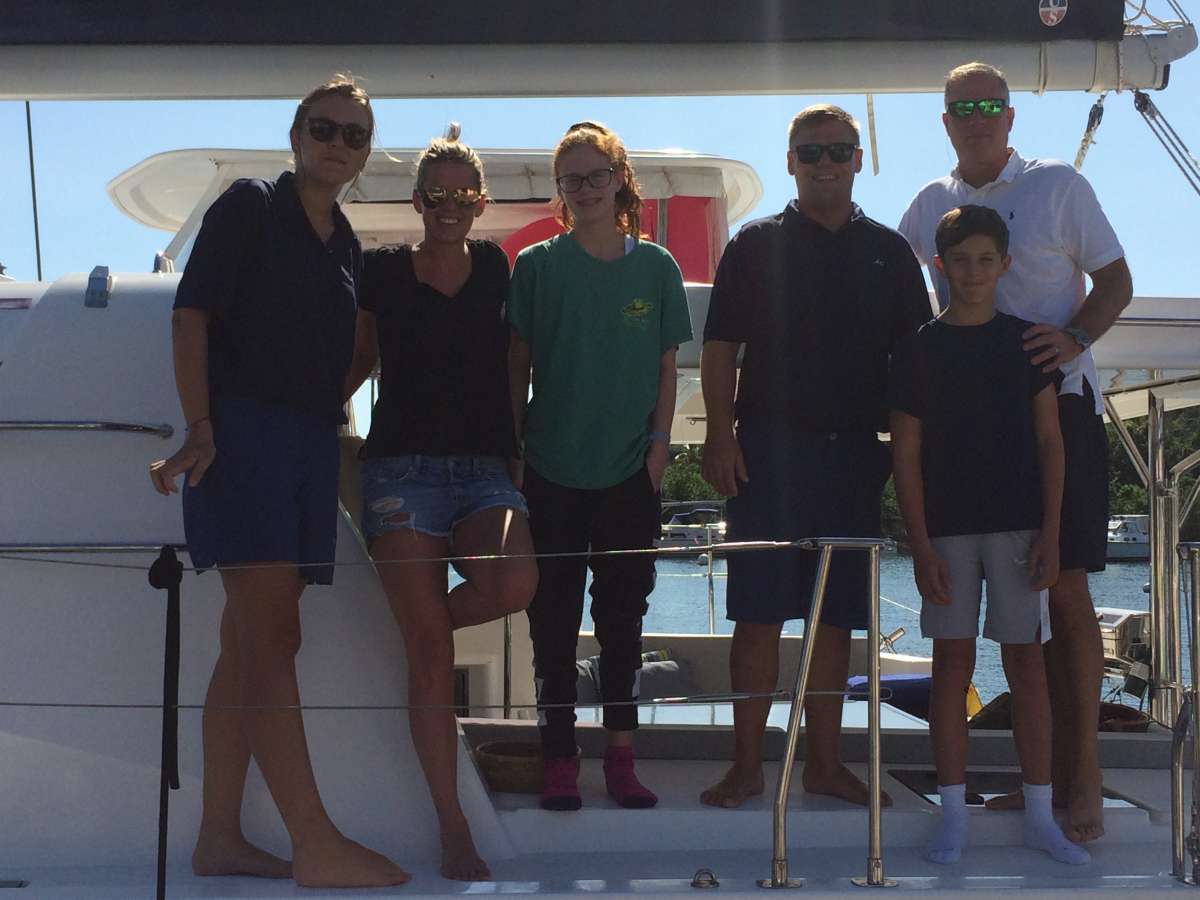 November 2018
We spent thanksgiving week aboard the Mojo, A beautiful 48' catamaran and were hosted by Richard & Dominique. Richard is an accomplished sailor who's quite knowledge about all things BVI including great snorkeling areas, quite coves and fun venues. Having been to the BVI'`S previously, we wanted to make sure we hit all the special spots and we were not disappointed.

Dominique is an amazing chef and we ate better than any previous vacation. The kids loved the desserts including warm chocolate brownies with ice cream and delicious key lime pie. She even went the extra mile and made us a memorable thanksgiving meal. Both Richard & Dominique were unbelievably attentive to our wants and needs including paying special attention to our 11 year old twins. They both made sure they were having a great time including enjoying the water-sports and surfing behind the dinghy.

This certainly was a vacation of a lifetime and the beginning of a new holiday tradition!

Doug, Tiffany, Audrey & Cooper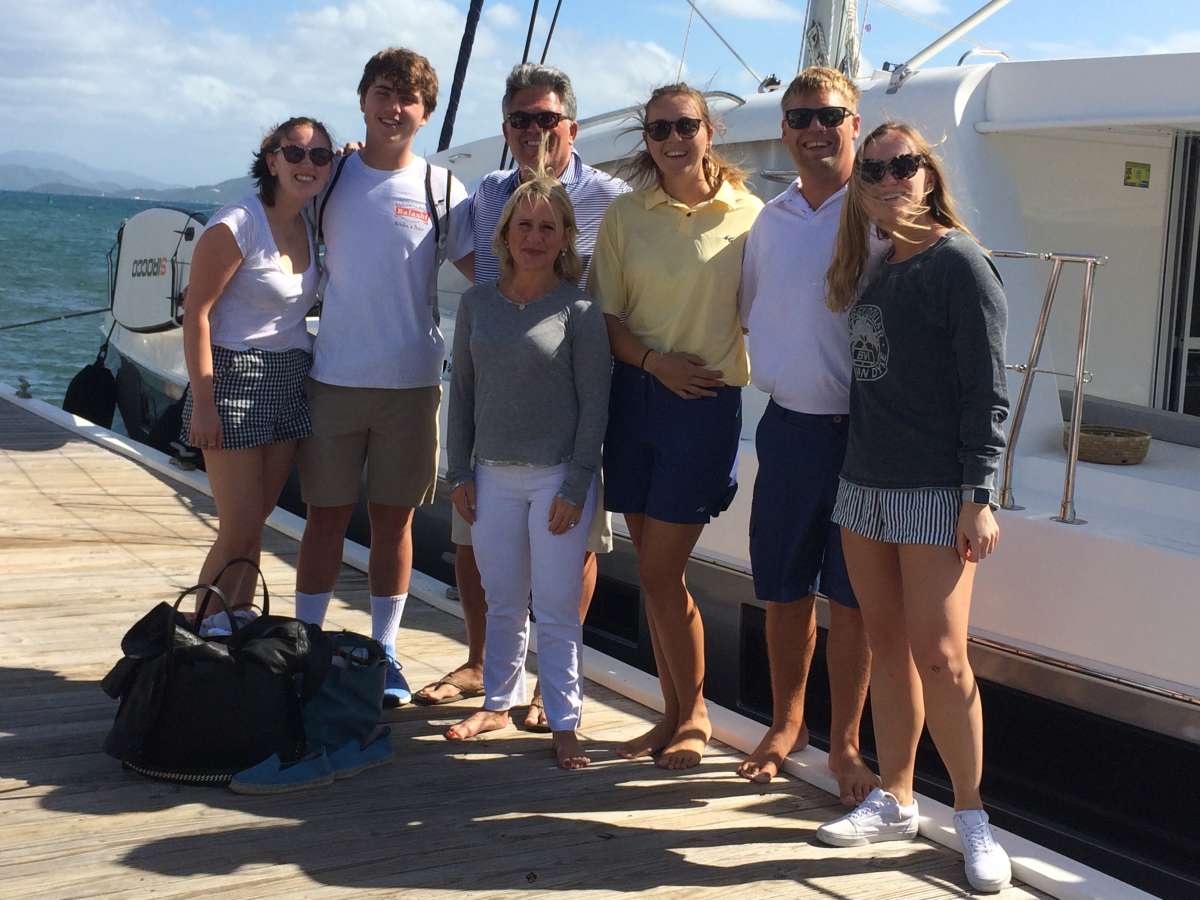 19th May 2018 in BVI with Richard & Dominique
Richard and Dominique are excellent hosts; food was amazing and itinerary well done.
3rd Mar 2018 in BVI with Richard & Dominique
Our family trip to the BVI was amazing and our best family trip EVER!! Our crew Richard and Dom made everything perfect from incredible meals, saying yes to our special requests and keeping a clean boat always! I will never forget this trip and we have booked and are looking forward to our next vacation!!!
28th Apr 2018 in BVI with Richard & Dominique
A wonderful trip with a most gracious crew! They were warm and sensitive to the needs of one of our special needs members and are incredibly hard working! They made our family vacation a wonderful success.
7th Apr 2018 in BVI with Richard & Dominique
Richard was an excellent Captain. He covered all the information and did so professionally and with humor where appropriate. I would rate him highly and would cruise with him again anytime. Dominique was an excellent first mate. She was skilled crew related to boat handling, anchoring, etc and was also a first class chef and hostess. The epitome of class, particularly impressive given her young age. The two of them handled the 10 guests in a most enjoyable manner.
7th Apr 2018 in BVI with Richard & Dominique
Captain Richard and his first mate Dominique are 2 of the finest people that I have ever met. The trip on the boat was excellent and I could not of been with a better crew. This was my first trip on a boat, I have never sailed before. I would love to do this trip again as long as I had these two amazing people. They are both so kind and caring and go out of their way to make you comfortable and at ease. They are without a doubt a asset to your company.
17th Mar 2018 in BVI with Richard & Dominique
Meeting Richard and Dominique was the best part of a week full of highlights. They are both excellent at what they do. Please thank them for sharing their expertise.
17th Feb 2018 in BVI with Richard & Dominique
If I could only use one word to describe this vacation, it would be: A W E S O M E !! Dominique & Richard were FANTASTIC hosts and made our week one that we will always remember! They worked together perfectly and provided an unbelievable level of service. Even though the seas were rough (25-30 kt sustained wind) for most of the week, we had a wonderful time visiting all the different bays and coves. With great food, drinks, swimming & snorkeling, a great boat, and a fantastic crew ... what more could we want!? The destruction on the islands was very sad but the areas that we visited were still beautiful and the water & sand were pristine. Truly a vacation we will talk about for years to come.
February 2018
Well you never know what to expect but I have to tell you this was an awesome trip. The boat is spectacular, clean and luxurious with all the added modern needs like your own ensuite ,wifi and surround sound while cruising in the Bahamas. The fresh food that was prepared was delicious and healthy.
If you have never been on a boat in the Carribean then you should try it!

-Michelle

10th Feb 2018 in BVI with Richard & Dominique
Richard and Dominique were awesome. We had a wonderful time. Dominique made great vegetarian/vegan meals for me. When we return, hopefully they will still be there so we can get on their catamaran again.
20th Jan 2018 in BVI with Richard & Dominique
This was one of the best trips of my life. Rich and Dom were amazing. They did so much and it was evident they were doing even more behind the scenes that we never saw. They worked their tails off to ensure we had a wonderful time, and we surely did. I can't think of a better crew to have had. They are wonderful people and really made the experience. I hope my wife and I are lucky enough to get a chance aboard a boat again, and if it were Rich and Dom again that would be even better.
Absolutely beautiful...
Words cannot describe how relaxed we were during our time on MoJo. The boat is absolutely beautiful and has tons of room both forward and aft to relax. My favorite place was lounging on the trampoline on the very front. We slept like babies in the cabin that had memory foam toppers. The water in the Exumas are stunning. We will differently go back for time on MoJo.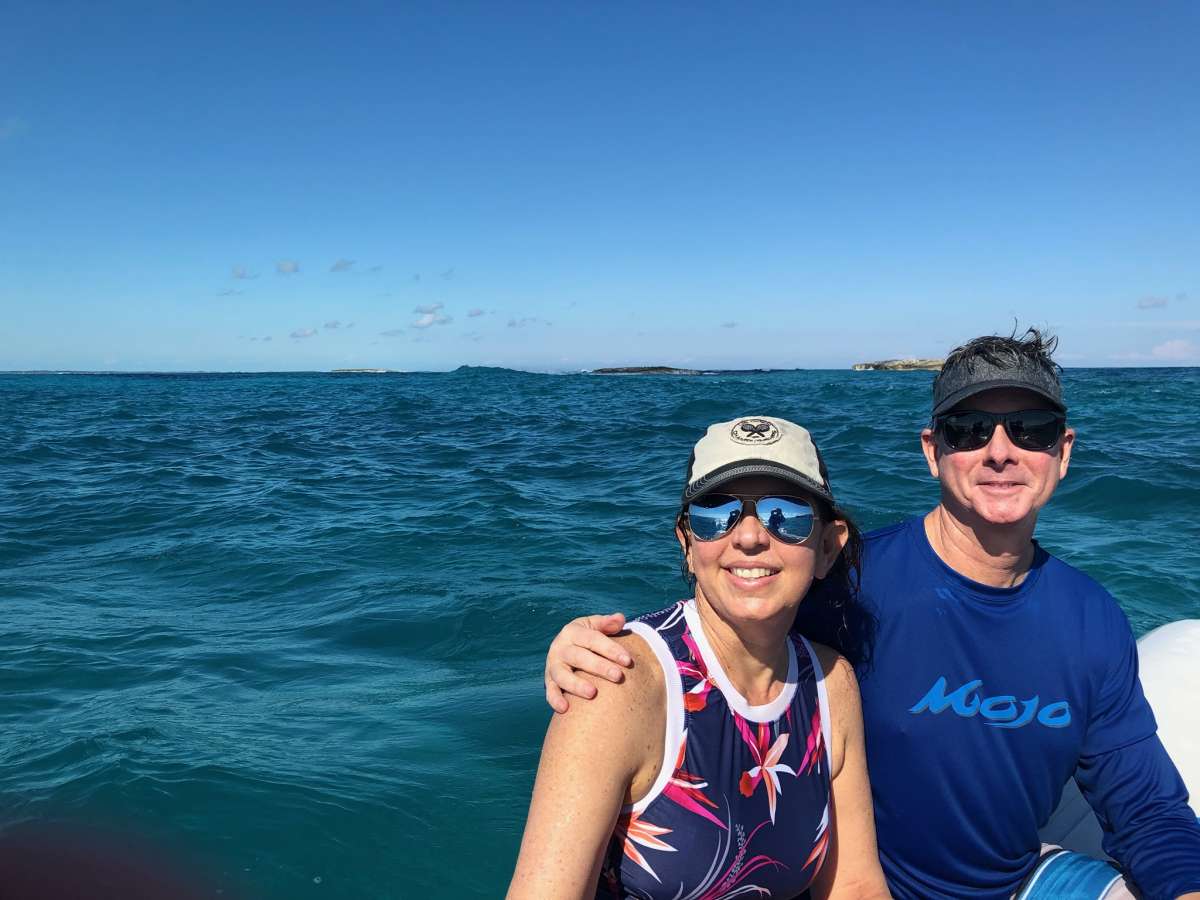 Incredible week...
Enjoyed an incredible week on Mojo! A beautiful boat and excellent accommodations. We experienced the Caribbean up close and personal....Surf, Sand, Sail, and Sun....memories created for a lifetime!

Thank you, Mojo!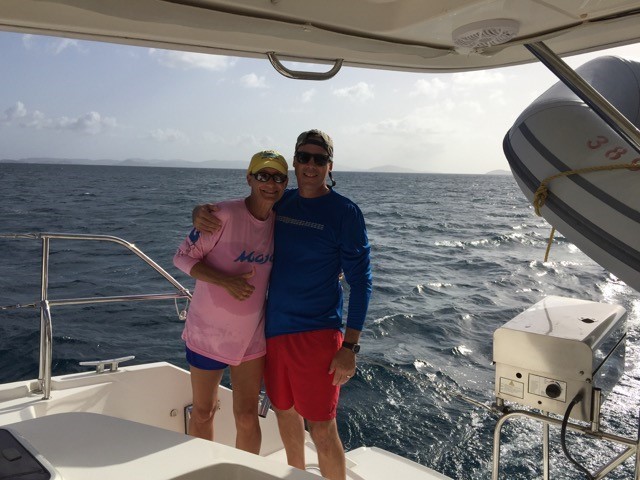 April 2017
Tim and I experienced the Mojo in April 2017. We honestly had no idea what to expect or how we would like being on a boat for 10 days. Turns out we had absolutely nothing to worry about!! This was the best vacation we've ever had. The Mojo is immaculately maintained by owners Dan and Lauren Draper. The cabins were private and comfortable. The food was amazing and of course the sailing and scenery cannot be beat. We swam and snorkeled, ate like royalty, saw the sights and truly relaxed. Can not recommend this experience and in particular this boat more. It's worth it!!
Seahorse Yacht Charters