The Seahorse Yacht Charters Fleet is a hand-picked and extensive collection sporting of only the finest, most trustworthy BVI charter yachts, such as Lagoon, Jeanneau, or Bavaria. These are brands and manufacturers that have come to prove themselves time and time again to be reliable and robust sea goers, capable of supplying relaxation, luxury, and adventure as you demand it. We believe the Yacht is one of the most central aspects of any charter experience, acting as a base of action, a source of fun and importantly, your home for the trip. We can help you find not only a great yacht but one that suits you and your needs specifically.
Check out the Seahorse Yacht Charters Fleet of BVI charter yachts today and see what we currently have available. No matter you're after a power yacht, monohull, catamaran or something more specific, you'll be sure to find something fitting in our line up. There's something for everyone here at Seahorse, it doesn't matter if you've never sent a day off land or if you're a grizzled sailing veteran, we can help find the yacht that's right for you. Our yachts are also perfect for couples or families, offering a prime opportunity to craft memorable and meaningful experiences you'll cherish for years to come.
If you have any questions regarding any BVI charter yachts that aren't answered here, please feel free to contact Seahorse Yacht Charters directly, and we'll be happy to help you out with any possible inquiries you may have. Our team is made up of experienced sailors and charter veterans, with Liz & her husband having spent over 30 years sailing and adventuring in the BVI. Seahorse Yacht Charter members have spent lives crafting stunning sailing memories and now want to bring those joys to you too. Sailing is an experience everyone should have at least once and it's never been easier than with the help of Seahorse Yacht Charters.
Seahorse Yacht Charters
P.O. 4278, Road Town, Tortola, n/a, VG1110, British Virgin Islands
284-441-7739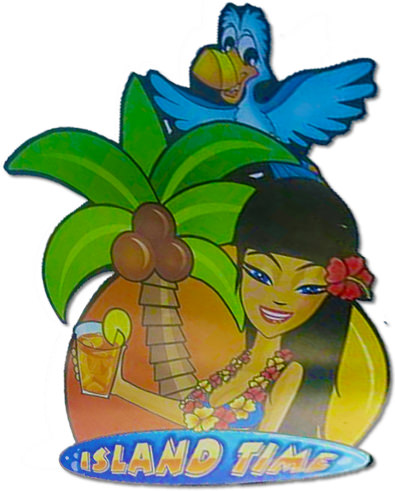 ISLAND TIME (CAT) SAMPLE MENU
Chef Sher's Sample Menu  
    Breakfasts
              Coffee, tea and fruit juices available with every breakfast.
Coconut French Toast topped with toasted coconut and whipped cream served with butter and syrup accompanied by breakfast sausage and fruit of the day.
Frittata del Giorno and toast served with jams and butter accompanied by the fruit of the day.
Pancakes served with a sweet delicious banana topping accompanied by bacon or sausage and fruit of the day.
Eggs Benedict: poached eggs served on English Muffins & ham topped by a freshly made Hollandaise sauce served with a slice of tomato and fruit of the day.
Continental Breakfast including mini croissants, yogurt, a variety of toasted bread, fruit plate, cereals, jams and hard cooked eggs.
Lox and Bagels, smoked salmon served with toasted bagels, cream cheese, chopped red onion, & capers accompanied by fruit of the day.
Ham and egg cups served with toast, jams and fresh fruit.
    Lunches
Spinach Onion Quiche and garden salad served with fresh bread.
Green Curry Coconut Shrimp with vegetables served over a bed of vermicelli rice noodles.
BLTA: bacon, lettuce, tomato & avocado sandwiches served on a baguette accompanied by chips and fruit.
Asian Calamari Salad served on a bed of greens accompanied by fresh bread.
Wrapsodia: wraps filled with pastrami, cheese and garden vegetables accompanied by fresh fruit.
Tacos with all the trimmings accompanied by chips and salsa.
Crab Cakes served on a bed of greens served with a cup of homemade butternut coconut squash soup accompanied by fresh bread.
Island Chicken Roti accompanied by chutneys served with a garden salad.
Nicoise salad accompanied by fresh bread.
    Afternoon Snacks / Appetizers
Assorted cheeses plate served crispy sliced apples and crackers.
Chilled shrimp served with a cocktail sauce and fruit.
Fresh made hummus served with crisp vegetables, crackers and olives.
Pesto pizza topped with feta cheese, olives and basil.
Charcuterie plate served with breads, crackers, nuts and fruit.
Warm brie topped with honey & walnuts served with fresh crispy apple slices and crackers.
Tortilla española accompanied by aioli sauce and fruit.
Warm Mexican bean dip topped with melted cheese served with chips, salsa and vegetable sticks.
   Dinners
Grilled Steak served with a cream mustard sauce accompanied by a baked potato and stir fried broccoli, onions with garlic and fresh bread.
Oven baked Mahi Mahi topped with sweet red peppers, yellow squash & onions served on a bed of coconut rice accompanied by a garden salad and fresh bread.
Grilled marinated pork tenderloin topped with a mango sauce served with baked small red potatoes and a garden salad and fresh bread.
Poached herbed grouper served on a bed of garlic herb couscous with a garden salad and fresh bread.
Grill seared tuna steaks served with wasabi & soy sauce accompanied by basmati rice and a garden salad.
Roasted marinated chicken breast served on a bed of orzo topped with a cream mushroom sauce accompanied by a fresh cooked brussel sprouts and fresh bread.
Fettuccine Alfredo with shrimp or chicken served with a green salad.
Grilled Salmon topped with a lemon caper sauce served over a bed of jasmine rice accompanied by a garden salad and fresh bread.
    Desserts
                   Coffee and tea available every evening.
Key Lime pie topped with whipped cream.
Poached pears in an amaretto cream sauce.
Fudge brownies topped with whipped cream and cocoa.
New York style cheesecake.
Coconut Pie topped with whipped cream.
Fresh berry & kiwi fruit cup bathed in orange juice served with shortbread.
Mascarpone honey tarts.
Bananas Foster served over fresh baked pound cake.
Seahorse Yacht Charters