The Seahorse Yacht Charters Fleet is a hand-picked and extensive collection sporting of only the finest, most trustworthy BVI charter yachts, such as Lagoon, Jeanneau, or Bavaria. These are brands and manufacturers that have come to prove themselves time and time again to be reliable and robust sea goers, capable of supplying relaxation, luxury, and adventure as you demand it. We believe the Yacht is one of the most central aspects of any charter experience, acting as a base of action, a source of fun and importantly, your home for the trip. We can help you find not only a great yacht but one that suits you and your needs specifically.
Check out the Seahorse Yacht Charters Fleet of BVI charter yachts today and see what we currently have available. No matter you're after a power yacht, monohull, catamaran or something more specific, you'll be sure to find something fitting in our line up. There's something for everyone here at Seahorse, it doesn't matter if you've never sent a day off land or if you're a grizzled sailing veteran, we can help find the yacht that's right for you. Our yachts are also perfect for couples or families, offering a prime opportunity to craft memorable and meaningful experiences you'll cherish for years to come.
If you have any questions regarding any BVI charter yachts that aren't answered here, please feel free to contact Seahorse Yacht Charters directly, and we'll be happy to help you out with any possible inquiries you may have. Our team is made up of experienced sailors and charter veterans, with Liz & her husband having spent over 30 years sailing and adventuring in the BVI. Seahorse Yacht Charter members have spent lives crafting stunning sailing memories and now want to bring those joys to you too. Sailing is an experience everyone should have at least once and it's never been easier than with the help of Seahorse Yacht Charters.
Seahorse Yacht Charters
P.O. 4278, Road Town, Tortola, n/a, VG1110, British Virgin Islands
284-441-7739



BRAVEHEART (58 FT) GUESTS COMMENTS
Mid-April, 2019, guests on BRAVEHEART wrote:

When you arrived, your first impression of the yacht was:
We were excited to be there and happy to finally be there. The yacht was clean and inviting.

Please describe your Captain (professional/outgoing/friendly etc.)
Kieran was all of the above plus more. He had great ideas and was very knowledgeable.

Please describe your chef (professional/outgoing/friendly etc.)
Michelle was also all of the above plus more. She created wonderful dishes and was very aware of our daughter's gluten intolerance

Please describe your meals (presentation, quality, quantity)
All were delicious. We had more then enough and it was always served with a wonderful presentation.
Reviews for Keiran and Michelle, BRAVEHEART's Summer Season 2018 crew
Crew Review
I spent 7 days with Kieran and Michelle cruising the BVI. They were such welcoming people! I remember them helping us board the boat from the dingy and being beyond helpful. Throughout the week they made very tasty cocktails, delectable food, and joined in on our 11 person group conversations. Kieran captained the boat from time to time and was a wonderful navigator. Additionally, they were incredible dive leaders- taking 3 of our group members down for the first time. Everyone enjoyed the diving with them so much! I would HIGHLY recommend them for a charter as I know they take such great care of their guests. By the end of the week, we felt like family and long friends.
-Danielle (St Paul, MN)

Crew Review

Kieran. The hardest thing to do in a confined space for a week is to keep the kids (ages 7-14) entertained and interested. Kieran did that wonderfully. At every stop all of the toys were instantly in the water and Kieran was ready to go with whatever they wanted to do. And he never got tired, if they wanted to be on the dingy for 4 hours, Kieran was there with energy and a smile. The new things he introduced us to were great, including the HaliJump, the SubWing, and the secret cliff jumping pool, all highlights. And I haven't even talked about SCUBA yet, Kieran was awesome with the SCUBA, encouraging dives every day. By the end of the trip, he had certified two new divers, gave resort lessons to two more, and did multiple dives with the three pre certified divers. From beach dives to more advanced, everyone LOVED the diving. I can not say enough about Kieran's great spirit, temperament, and energy.
Kieran was accompanied by Michelle, who is simply wonderful. I will start with the diving, Michelle loves to dive too and she was involved with all the dives. It was helpful to have both Kieran and Michelle on dives as we could break up the group based on skill level. From the boat standpoint Michelle was always on the spot. There was never a towel out of place, a glass half empty, or what you needed not instantly available. The fact is, Michelle is just a VERY nice person, and pleasant to be around at all times. She was warm and made the entire group welcome and comfortable. And, she was pretty funny!
Lugash Family. Santa Monica, CA

To whom it may concern:

My friends and I had the good fortune to have Kieran and Michelle as hosts on a recent trip to the BVI's. As someone that has done many charters with crew and without in the BVI's I can say they were extraordinary relative to other crews. Their attentive and helpful styles made our 5 day charter very special. As an experienced diver I found it particularly helpful to have Kieran and Michelle point out special dive sites and provide good company as dive buddies.

Post my trip with them I reached out for dinner as I wanted to stay in touch.

I am looking forward to sailing with them again.

Please contact me if you should have any questions.
Eric H. Waser
A group of 4 couples that booked Braveheart in March, 2014
We had a wonderful week on the Braveheart. Jerry and Dawn were fabulous. The accommodations were great and the meals exceeded all expectations! We had great weather, four of the passengers dove at least 4 times and we visited all islands we wanted.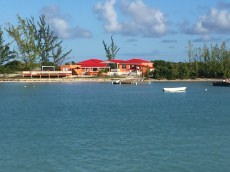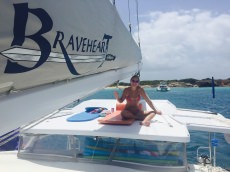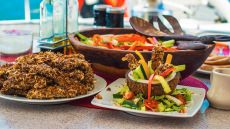 Three generations enjoy Scuba diving on Braveheart
My wifes and my experience on Braveheart exceeded our expectations. Not having done one of these before, we didn't know exactly what to expect, although some of our friends who had been on a similar charter, gave us some good insight. We had a fantastic time. I dont know if there are any changes I could suggest to make the experience any better. Jerry and Dawn could not have been better hosts. They guided us on what we should take advantage of, being so familiar with the area. They were extremely attentive to our needs and very accommodating when we adjusted plans that had been set. Jerry worked very hard balancing each of our own preferences. For me, it was scuba diving. Although, I was the only certified diver on the boat, as I mentioned previously, I was certainly satisfied with the number of dives I was able to do. Dawn worked tirelessly to make sure we were fed and our accommodations were clean and fresh. The meals that Dawn prepared were absolutely delicious. None left the table hungry. I would have zero hesitation in recommending Jerry, Dawn and Braveheart to any of my friends. Thanks and hope to do this again real soon.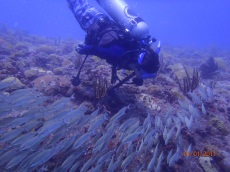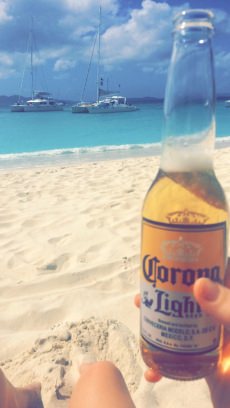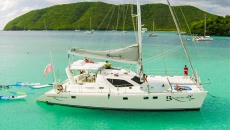 A two family group of 8 that booked aboard Braveheart for Christmas 2013
In a word, our trip was just Fantastic! One of the best vacations we've had as a family. We saw all the highlights of BVI. The boat was really clean, the rooms were spacious, and it had everything you'd want including the scuba. My only regret is that we didn't have more time to use all the toys more often. The crew was the best. Very friendly, very helpful, and very professional. Dawn is a great cook and she exceeded all of our expectations (eggs Benedict!). She even tried Mexican for the first time and it was great! David clearly was a big help to both Jerry and Dawn and he was super with the GoPro on the scuba dives and taking family pictures too. Captain Jerry is a real pro and his knowledge of the area was a real asset, especially to avoid the crowds and the swells (no one was sea sick!). He had great suggestions but never pressured us to do anything. Even his daily napkin folding lesson was optional! Glad we got to snorkel with the huge manta ray on the last day!

-----

Brian and I would echo all of the comments above. This crew was so hospitable, they really know the islands extremely well, had great time management so that we never felt rushed or bored, and made sure we got to experience all that BVI had to offer. A highlight for us was Brian catching a tuna and Dawn making it up two ways, both sushi style as well as poke style. She really tried very hard to please all pallets. The girls loved being able to wake-board behind the dingy. That was fantastic. Jerry providing great afternoon cocktails, education on the Lion Fish, and snorkeling/swimming with a man-a-ray were all pretty cool as well. Thank you again for all your work on this. It was truly an adventure of a life time and the memories will live on.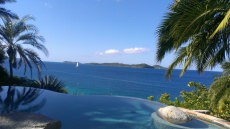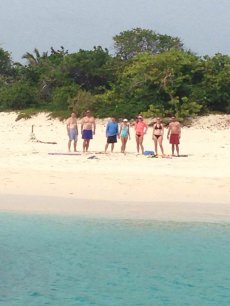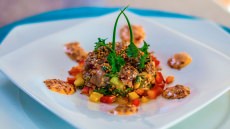 AUGUST 2013
Dear Dawn and Jerry,
Thank you very much for feeding us such wonderful food and bringing us to such amazing beaches ,we all enjoyed this trip very much! After all these days we have become good friends and loved to listen to all your sailing stories... we hope to see you in our part of town(Both Miami and New York) sometime soon... Thank you for keeping us safe, it was wonderful.
With Love Michelle, Ursula, Rick ,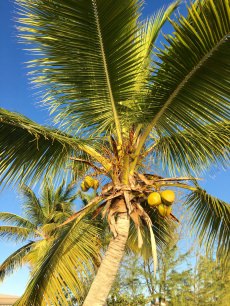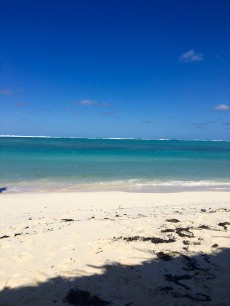 A group of 4 couples that booked aboard in May, 2013
Back to reality has been brutal! I want to go back and have Jerry and Dawn take care of me again! We had a wonderful time- lots of laughs, activities and quiet time- what ever we wanted Jerry and Dawn made appear. The food was delicious, all our needs were met and everyone had fun. I think the best part for me was waking up every morning and smelling Dawn making breakfast. As the mother of 5- if you smell someone trying to "help" in the morning all you can think of is the cleanup you will have to do. It was so nice to have our meals announced and served - and no cleanup! And as that I am the planner for the group, it was great to have Jerry take over the reigns once we were on board. I hope this was helpful- we really had a great time- Thank you for all your help!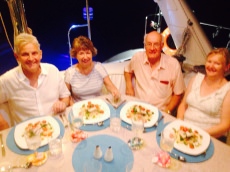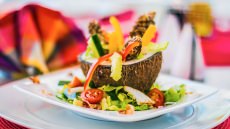 50th Birthday Celebration
Second outing with Braveheart, hope there will be a third! Thank you for a wonderful trip loads of laughs & happy memories for my birthday Tim & Kate
Bucks. U.K Feb 22nd 2009.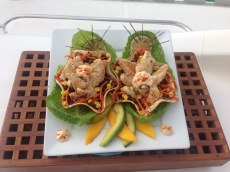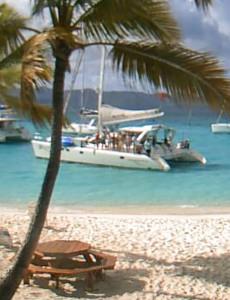 8 person Dive charter
Awesome time, truly a class act charter. We all agree that this was a dream come true even for Bob & I as this is trip #5. Thank you for all your planning and presentation of food & fun. Your attention to all our needs and wants. Thank you for all the great memories. If you ever want to come visit you have a place to stay.
Feb 7th 2009.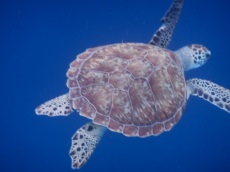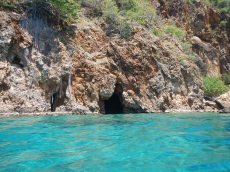 Family Dive trip Jan 09
Beyond Fabulous! Great food, Great diving, Great hospitality Great everything
Thanks for the fantastic visit to the BVI! Thanks so much! Best vacation ever.
Phil, Patti , Kevin, Geoff , Erin
Jan 2009.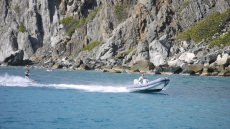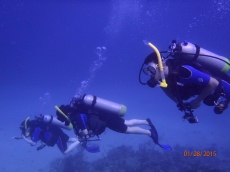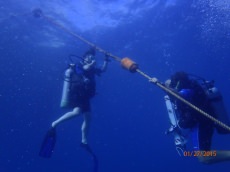 8 person dive charter 2009
We cant thank you enough for the most perfect trip. This is our third charter and our favorite. The crew was fantastic and every meal was delicious. Thank you Jerry for all the extra help and comfort helping us dive. Im spoiled forever. Butch & Suzanne
Feb 09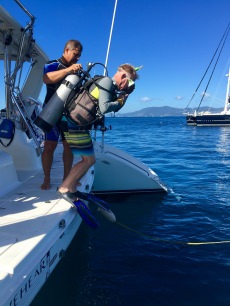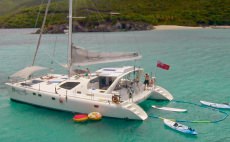 June 08 Discover Scuba course
Hey Jerry,
It's been a few days since our charter. I want to come back desperately. I think I'm going to jump off of a building...

not really.... anyways, hope all is well. Thanks again for a great trip. Next time I come back I'll be certified. Take care man
Matt
June 5th 2008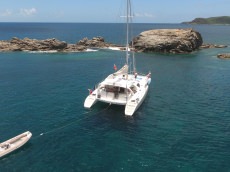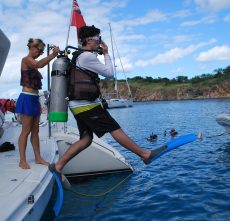 Family of five in tandem with Bareboat friends
Thanks for christening all the virgin sailors. The kids had a blast with the new experiences- scuba, snorkel, wakeboarding, tubing. Call us anytime if you make it to San Diego or Calgary.
Marco, Patti, Raiden, Malcolm, Quintin
March 23rd 2008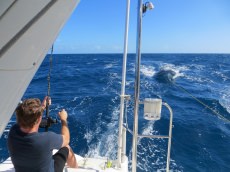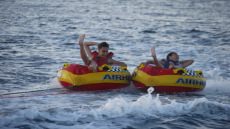 2 families making 9 total with young kids
It is with heavy heart that we say goodbye. This was certainly a dream come true. Thank you for making our trip such a memorable one. I hope we will be back very soon. Thank you for making us feel so welcome.. each day you managed to amaze us even further with the great service, food and activities. Good-bye for nowhope to see you again soon Craig, Jenny, Jeff, Julie, Courtney, Sydney, Ryan, Addy, Casey
March 29th 2008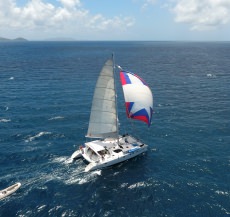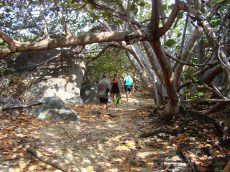 40th birthday party with 4 couples
Thanks for a great birthday Party!
Trip was all we had hoped for and more. Excellent food Dawn & Captain Jerry kept us laughing, got us all to the bottom and back breathing.
Great crew & trip! Hope I dont have to wait until my 50th to do it all again. Steve
March 6th 2008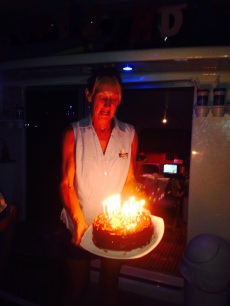 4 couples
It iswell overdue, but I wanted to thank you for providing us a great experience. Normally it is hard to please 7 others, but everyone had a great time. A lot of memories that will solidify our friendships. I am sure you will see some of us again. Beth (my wife) is already trying to figure out how she can set up a trip with friends.

Great crew, great boat, great food, great memories.
Tom
Nov 18th 2008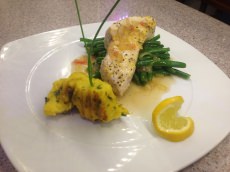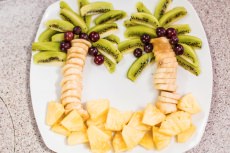 June 2015
Fabulous crew. lots of knowledge and very friendly. Extremely accommodating, professional and FUN.
Went to places we were not aware of.
Wonderful healthy food. Wonderful family experience.Wish we could stay.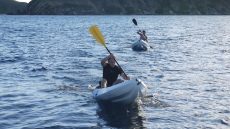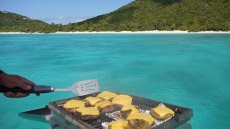 August 2015
You far exceeded our EXPECTATIONS!. LOVED IT ALL.
Best Vacation. Best Crew. Best Memories.
Some of the most beautiful corals ever.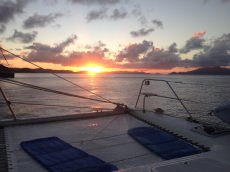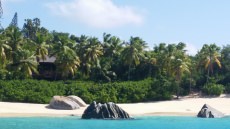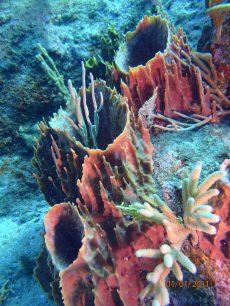 Dec 2015
Fantastic vacation. Great snorkeling, paddle boarding, sightseeing,beaches, bars and food!.Operations could not have been smoother.
HIGHLY RECOMMENDED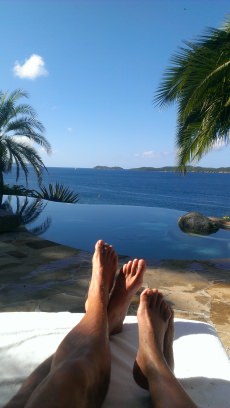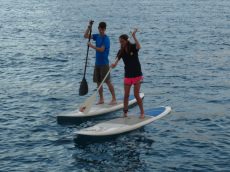 Jan 2016
A DREAM week. thank you Jerry and Dawn for sharing so much knowledge of the BVI and stories.
Irreplaceable. Loved the attentiveness, information, education, stories ...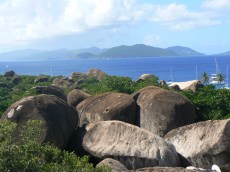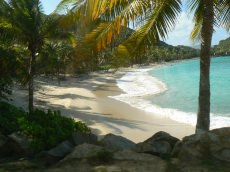 Feb 2016
Awesome trip was awesome. We all loved it and both of you were terrific. we enjoyed the food, the diving the kayaking..EVERYTHING!
The most perfect vacation. Thank you Dawn & Jerry you are the best Hosts.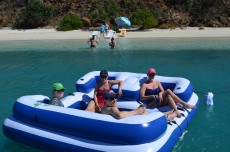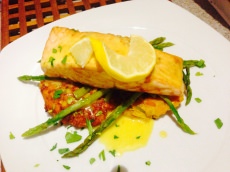 2016 families from 2 continents vacationing on Braveheart
You and Dawn made it so special for us.Having sailed in the BVIs several time, this should not be taken lightly.One of our best ever!!I loved the education about the environment,the flexibility but still with safety first.The fact that Scott got to steer the boat, whoa.Think you made his journey.Dawn what a small powerhouse of a gal.I want your abs.All that you did to take care of us and help with the sailing was amazing!!!! When do you people sleep?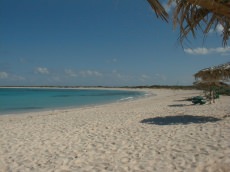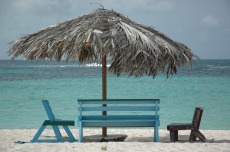 May 2016 40th celebration
what an amazing 40th, UNFORGETTABLE!! You are so FABULOUS. Thank you for making such special memories, the delicious food and amazing hospitality. It's hard to imagine we could have had a better time.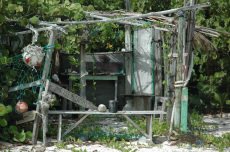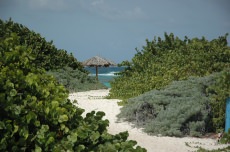 2016. Honeymooners RETURN 20 yrs later
Great week to CELEBRATE our 20th Anniversary and meet Jerry AGAIN from our Honeymoon. Thank you for a really wonderful week & helping us celebrate, just like the first time around.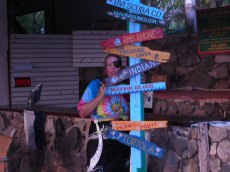 June 2016
This was an awesome trip. The dives were excellent - Great visibility. The food was fabulous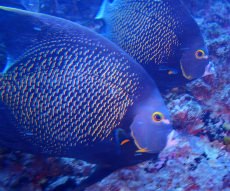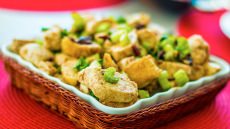 Seahorse Yacht Charters